We are now seeing more and more companies advertising "Search Engine Optimization" services but the hidden secret is most companies will charge an absorbingly high price to only add your website to their "Online Directory".
Companies in Toronto want the ability to increase their Internet Traffic to attract new customers to their Products and Services, by only adding them to a personal Online Directory this disables the company from finding future customers searching through traditional search engines like Google, Yahoo or Bing.
SEO Web Marketing has been helping Toronto businesses increase their web positioning through Toronto SEO services for the last decade. All our Toronto Internet Marketing campaigns are designed to improve your "organic search results" which will increase long term profitability.
We offer a multitude of different Toronto SEO services which are tailored to any business wanting to increase their Internet Traffic.
Organic Search Results
The definition of an "organic search result" is when a future customer in the Greater Toronto Area searches for a keyword term through Google, Yahoo or Bing and they are able to find your website through their relevant search term.
Example of a Organic Search Term:

Toronto SEO Services
Installing Google Analytics on all our Toronto clients websites and teaching them on how to read the data being processed through Google is one of our main key focuses as having a knowledgeable Toronto SEO client is our first priority.
If a Toronto SEO client is able to track the amount of sales our marketing campaign has yield then we have a customer for life.
Google Analytics Statistics: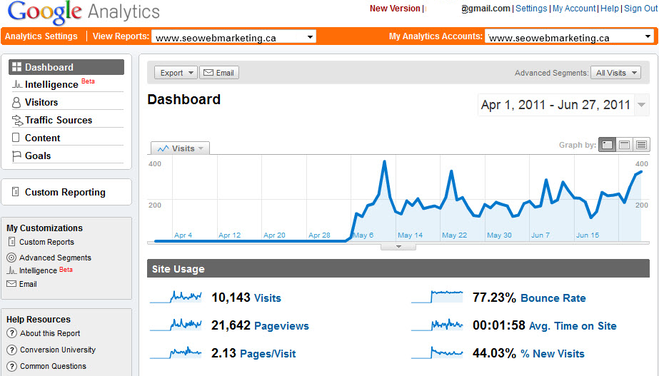 The example above is from a recent Toronto SEO customer of ours which allowed us to display their optimization results as they were extremely happy with their recent increase in Internet Marketing Traffic yielded through our Toronto SEO Services.
The Google Analytics graph is from the recently SEO optimized client in Toronto and as you can see above they are now receiving 1,311 visits from organic search results from Search Engines which equate to 20% of their overall website traffic.
Referring Site Traffic was accomplished through our Social Media Marketing Campaign which included Facebook, Twitter and LinkedIn Marketing.
Our client used to receive around 4~5 online orders a week prior to our Toronto SEO optimization and after a couple of weeks of working with the Toronto company we've increased their online sales by 200% to 200~300 a week and growing weekly!
Toronto SEO Services increases your online visibility and brand identity!
Social Media Marketing
We believe Social Media if used correctly can attract Greater Toronto Area customers which might of not searched for specific keywords and is the best word of mouth medium the Internet has to offer. Social Media has matured and is no longer the days of teenagers writing about their days on MySpace and Live Journal.
LinkedIn, Twitter and Facebook have changed the way future customers from Toronto look for products, services and reading material. Twitter and Facebook have over 500 million users each and with this wielding power comes "Free Advertising".
We customize our Toronto Clients websites for customers to be able to Interact with all Social Mediums to advertise your products to all their "friends" on Facebook or the whole world on Twitter.
We utilize LinkedIn for our Toronto clients to conduct Business to Business transactions and increase their revenue by associating themselves with individuals and groups from the Greater Toronto Area which need their products thus increasing sales their products and services.
Let SEO Web Marketing help your company profitability grow through Search Engine Optimization and Toronto SEO!